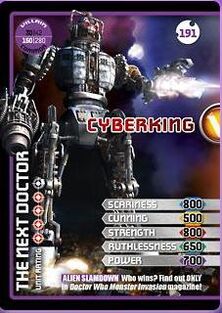 Another card you might have been looking for is Miss Hartigan who can be classed as the first cyberking card.
This Common Villain card is the first villian that is completley mechanical with no organic parts at all and was made to convert the humans below. It is a half card that versus The Beast. It has a Unit Rating of 4/5.
In Part 11 of the DWMI Magazene the Cyberking beats the beast.
Ad blocker interference detected!
Wikia is a free-to-use site that makes money from advertising. We have a modified experience for viewers using ad blockers

Wikia is not accessible if you've made further modifications. Remove the custom ad blocker rule(s) and the page will load as expected.