The 3rd set is called DWMI Ultimate collection. It came out in July 2013. The cards came with issues 32-52. There were 126 cards in total plus 5 special editions (4 flip-side cards and Silence will Fall). All the cards except Silence will Fall (476) came with the magazine. If you bought every issue you got every card. Silence will Fall was only available in to subscribers in issue 33. There were no tins or CDUs in this set. You didn't really need them as you only had to buy every issue of the magazine to get every card.
Here are the links to the 3rd set cards.
Ultimate Cards
Edit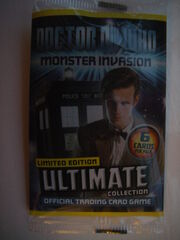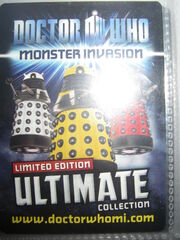 Doctors (15 cards)
Edit
Third Doctor and Sarah Jane (349)
Fourth Doctor and Romana (350)
Ninth Doctor and Captain Jack (355)
Duplicate Doctor and Donna (357)
Eleventh Doctor, Amy and Rory (359)
Eleventh Doctor and River Song (360)
Villains (15 cards)
Edit
Doctor's Allies (24 cards)
Edit
Monsters (30 cards)
Edit
Father Christmas Roboforms (423)
Gadgets (12 cards)
Edit
Adventures (30 cards)
Edit
Spitfires in Space (444) Trilogic (445)
Special Editions
Edit
Eleventh Doctor/Supreme Dalek (474)
Eleventh Doctor/The Doctor's Ganger (475)
Ad blocker interference detected!
Wikia is a free-to-use site that makes money from advertising. We have a modified experience for viewers using ad blockers

Wikia is not accessible if you've made further modifications. Remove the custom ad blocker rule(s) and the page will load as expected.