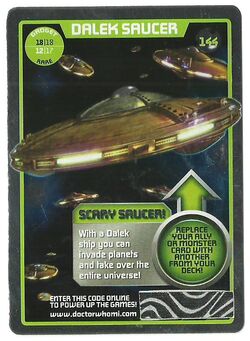 This is card number 144, gadget card number 18 and rare card number 12.
It's effect is "Replace your ally or monster card with another from your deck!"
It's text reads "Scary Saucer! With a Dalek ship you can invade planets and take over the entire universe!"
Ad blocker interference detected!
Wikia is a free-to-use site that makes money from advertising. We have a modified experience for viewers using ad blockers

Wikia is not accessible if you've made further modifications. Remove the custom ad blocker rule(s) and the page will load as expected.