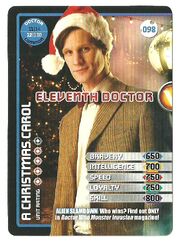 This is card number 098, doctor card number 14 and common card number 12.
It has a unit rating of 4 and has the following stats
Bravery 650
Intelligence 700
Speed 750
Loyalty 750
Skill 800
This is a Half Card and was in part 4 of the Monster Invasion magazine in the Alien Slamdown against Kazran Sardick, it wins.
There is a minor error on this card, it is labelled doctor card 11 of 14, but should be labelled card 14 of 14.