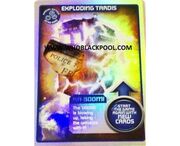 This card was the first special edition
Ultra Rare
. To obtain it you had to purchase the collecters tin from the original series.
It is the most powerful card in the pack because if you wish to use it you could restart the whole game. The only other card with this power is The Silence Infinte.
Ad blocker interference detected!
Wikia is a free-to-use site that makes money from advertising. We have a modified experience for viewers using ad blockers

Wikia is not accessible if you've made further modifications. Remove the custom ad blocker rule(s) and the page will load as expected.