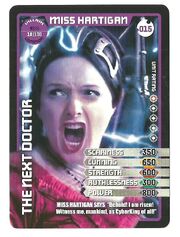 This is card number 015, villain card number 9 and common card number 18.
It has a unit rating of 1 and has the following stats
Scariness 350
Cunning 650
Strength 600
Ruthlessness 300
Power 800
It's inscription reads: Miss Hartigan says "Behold! I am risen! Witness me, mankind, as CyberKing of all!"
Some mistake this as the Cyberking card but is actually a different one all together.