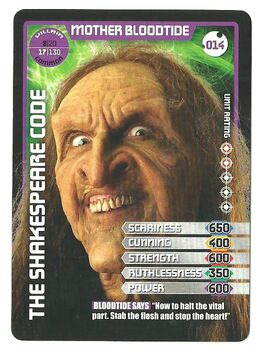 This is card number 014,
villain
card number 8 and
common
card number 17.
It has a unit rating of 2 and has the following stats
Scariness 650
Cunning 400
Strength 600
Ruthlessness 350
Power 600
It's inscription reads: Bloodtide says "Now to halt the vital part. Stab the flesh and stop the heart!".
In the test set, the inscription read: Bloodtide says "Now begins the millenium of blood"