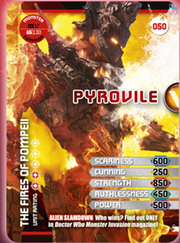 This is card number 050, 
monster 
card number 20 and 
common 
card number 65.
It has a unit rating of 2 and has the following stats
Scariness 600
Cunning 250
Strength 850
Ruthlessness 450
Power 500
This is a Half Card and was in a Monster Invasion magazine in the Alien Slamdown against The Flood. It loses.