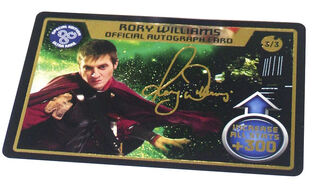 This is the final Ultra Rare autograph card from the extreme set release. It can boost your stats +500. This one is signed by Auther Darvil aka Rory Williams.
The only way to obtain this card is to purchase one of the Extreme collector tins.
Next card (Next Special edition ultra rare)
Ad blocker interference detected!
Wikia is a free-to-use site that makes money from advertising. We have a modified experience for viewers using ad blockers

Wikia is not accessible if you've made further modifications. Remove the custom ad blocker rule(s) and the page will load as expected.