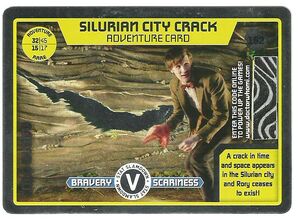 This is card number 152, adventure card number 32 and rare card number 15.
It's inscription reads "A crack in time and space ppears in the Silurian city and Rory ceases to exist!"
Edit or create 5 Siluran cards to win this card as a badge.
The Doctor found a part of the TARDIS in the crack.
If you ever find a crack in time, don't go near it or you'll be erased from history.
Ad blocker interference detected!
Wikia is a free-to-use site that makes money from advertising. We have a modified experience for viewers using ad blockers

Wikia is not accessible if you've made further modifications. Remove the custom ad blocker rule(s) and the page will load as expected.