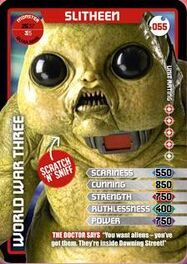 This is card number 055, monster card number 25 and ultra-rare card number 3. It has a unit rating of 4 and has the following stats
Scariness 550
Cunning 850
Strength 750
Ruthlessness 400
Power 750 
It's inscription reads: The Doctor says "you want aliens - you've got them. They're inside Downing Street!"
This card is one of only 2 scratch N sniff cards in the monster invasion collection. 
Ad blocker interference detected!
Wikia is a free-to-use site that makes money from advertising. We have a modified experience for viewers using ad blockers

Wikia is not accessible if you've made further modifications. Remove the custom ad blocker rule(s) and the page will load as expected.