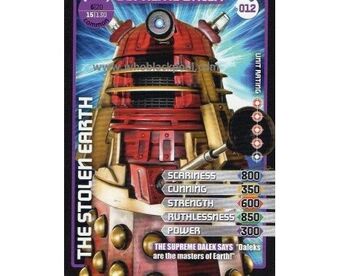 This is card number 012,
villain
card number 6 and
common
card number 15.
It has a unit rating of 4 and has the following stats
Scariness 800
Cunning 350
Strength 600
Ruthlessness 850
Power 300
It's inscription reads: The Supreme Dalek says "Daleks are the masters of the Earth".
In the test set, the background of this card was red rather than blue.
Ad blocker interference detected!
Wikia is a free-to-use site that makes money from advertising. We have a modified experience for viewers using ad blockers

Wikia is not accessible if you've made further modifications. Remove the custom ad blocker rule(s) and the page will load as expected.