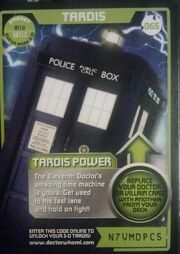 This is card number 065, gadget card number 9 and super rare card number 12.
It's effect is "Replace your doctor or villain card with another from your deck"
It's text reads "TARDIS Power. The Eleventh Doctor's amazing time machine is yours! Get used to the fast lane and hold on tight!"
This is the rarest Super Rare 3D. 1 in 550 packets.
Ad blocker interference detected!
Wikia is a free-to-use site that makes money from advertising. We have a modified experience for viewers using ad blockers

Wikia is not accessible if you've made further modifications. Remove the custom ad blocker rule(s) and the page will load as expected.