The TARDIS Box is a specialy made box that opens up holding six compartments for each of the cards (Doctor, Villian, Ally, Monster, Gadget, Adventure). The TARDIS can then be closed and a lid placed over the top to hold it together and complete the TARDIS look. The TARDIS holder comes free with issue 2 of the magazine and the lid comes with issue 3.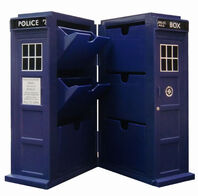 Ad blocker interference detected!
Wikia is a free-to-use site that makes money from advertising. We have a modified experience for viewers using ad blockers

Wikia is not accessible if you've made further modifications. Remove the custom ad blocker rule(s) and the page will load as expected.