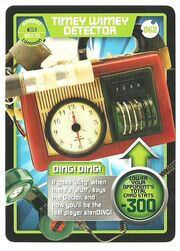 This is card number 062, 
gadget
 card number 6 and 
common
 card number 82.
It's effect is "Lower your opponent's total card stats -300"
It's text reads "Ding! Ding! It goes 'ding' when there's 'stuff', says the Doctor, and now you'll be the last player stanDING."
Ad blocker interference detected!
Wikia is a free-to-use site that makes money from advertising. We have a modified experience for viewers using ad blockers

Wikia is not accessible if you've made further modifications. Remove the custom ad blocker rule(s) and the page will load as expected.