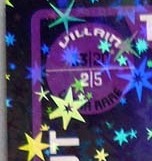 Ultra Rare Cards
Edit
The Ultra Rare cards are the most rare of the lot as there are only 31, and 9 special edition cards.
The cards have various special features, ranging from a stars on the cover to a "Scratch N Sniff" feature.
Original Set
Edit
Extreme Set
Edit
Ultimate Set
Edit
Eleventh Doctor, Amy and Rory (359)
Eleventh Doctor and River Song (360)
Special Edition (Original)
Edit
Special Edition (Extreme)
Edit
Autographed cards.
Special Edition (Ultimate)
Edit
Flip-Side cards.
Eleventh Doctor/The Doctor's Ganger
Not Flip-side cards.